Hvad er Trello?
From sales and marketing to HR and operations, teams can design and customize Trello to fit their unique needs and work styles. And with over 100+ integrations with other key tools like Google Drive, Slack, Jira and more, Trello is a living, breathing project hub of cross-team collaboration no matter where your work needs to happen. Trello brings joy to teamwork by making it transparent and easily shareable across boards and teams.
Hvem bruger Trello?
Trello is for teams of all sizes, for the creators and doers, and for those who take dreams to done. Trusted by millions, Trello powers teams all around the world.
Hvor kan Trello anvendes?
Cloud-baseret
Lokalt
---
Om leverandøren
Atlassian
Beliggende i San Francisco, USA
Grundlagt i 2013
Support vedrørende Trello
Tilgængelige lande
Australien, Brasilien, Canada, De Forenede Arabiske Emirater, Filippinerne og 11 andre
Om leverandøren
Atlassian
Beliggende i San Francisco, USA
Grundlagt i 2013
Support vedrørende Trello
Tilgængelige lande
Australien, Brasilien, Canada, De Forenede Arabiske Emirater, Filippinerne og 11 andre
Videoer og billeder af Trello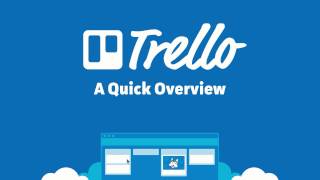 Sammenlign Trello med lignende produkter
Egenskaber ved Trello
Adgangskontrolelementer/tilladelser
Administration af notater
Afstemninger/afstemning
Aktivitets-/nyhedsopdatering
Aktivitetssporing
Automatisering af formularer
Automatisering af forretningsproces
Beskeder
Beskeder/meddelelser
Brainstorming
Budgetstyring
CRM
Chat i realtid
Dashboard
Dashboard for aktivitet
Diskussioner/fora
Dokumentopbevaring
E-mailstyring
Elektroniske blanketter
Fakturering og regninger
Fildeling
Fjernadgang/kontrol
Fjernsupport
Flere kampagner
For Creative Agencies
For Small Businesses
Grafisk workflow-editor
Gæsteadgang
Idéstyring
Import/eksport af data
Importopgaver
Indholdsstyring
Ingen kode
Innovation Management
KPI-overvågning
Kalenderstyring
Kampagneplanlægning
Kampagnestyring
Kanalstyring
Kanban-tavle
Klientportal
Kommentarer/notater
Kommunikationsstyring
Konfiguration af arbejdsgange
Konfigurerbar arbejdsgang
Konvertering af e-mail-til-opgave
Lagerstyring
Live chat
Markedsføringsautomatisering
Markedsføringskalender
Medarbejderstyring
Medieplanlægning
Mobil adgang
Målstyring
Målsætning/sporing
Mærkning
Mødeledelse
Notifikationer i realtid
Opgavemærkning
Opgaveplanlægning
Opgavestyring
Opret underopgaver
Ordresporing
Ordrestyring
Planlægning
Planlægning af projekt
Porteføljestyring
Prioritering
Procesmodellering og design
Produkt-roadmapping
Produktdatastyring
Projektledelse
Projektplanlægning/tidsplan
Projektsporing
Præstationsmåling
Rapportering og statistik
Rapportering/analyse
Rapportering/projektsporing
Redigering i realtid
Redigering/opdatering af opgave
Regelbaseret arbejdsgang
Ressourceforespørgsel
Ressourceplanlægning
Ressourcestyring
Risikostyring
SSL-sikkerhed
Samarbejdsværktøjer
Sikker datalagring
Skabelonstyring
Sporing af fremskridt
Sporing af fuldførte procent
Sporing af færdigheder
Sporing af milepæle
Sporing af omkostninger til færdiggørelse
Sporing af opgavefremskridt
Sporing af tid og omkostning
Sprintplanlægning
Statussporing
Strategisk planlægning
Styring af arbejdsgange
Styring af krav
Styring af leverandører
Styring af ordrebeholdning
Styring af orienteringsarbejdsgang
Styring af produktlivscyklus
Søgning/filter
Tidsregistrering
Tilbagevendende opgaver
Tildelingsstyring
Tilpasselige dashboard
Tilpasselige skabeloner
Tredjepartsintegrationer
Træk og slip
Træningsledelse
Undersøgelser og feedback
Vejkortlægning
Vidensstyring
Visning af Gantt/tidslinje
Visualisering
Visuel styring af arbejdsgange
Astrid
Senior IT Recruiter i El Salvador
Bekræftet LinkedIn-bruger
Outsourcing/Offshoring, 201-500 medarbejdere
Har anvendt softwaren til: 6-12 måneder
Overvejede alternativer:
Remote Project Management? Trello is your tool!
Kommentarer: "Chef Kiss! 5 stars, would totally use it again"
I know it's super cliche but is true, I love Trello and after working with sooooo many project management tools Trello is among my Top 3, and whenever a new client tells me "Let me add you to our Trello Board" I cry put of joy because I know I am gonna have the information and support I need just a click away.
Fordele:
Honestly, there are so many things to like about Trello, how user-friendly it is, you can literally teach anyone how to use Trello in less than 20 minutes. Super easy for people who are starting doing project management, visually a blast and you are able to have full visibility of stages and day-to-day tasks. Managing backlog is super easy and you are able to truly focus on what is important and not feel like you leaving anything out.
Ulemper:
If you are looking for a more confidential set type of tool maybe Trello is not your thing. Some of the projects I manage need some part to be public and others to be more on the low and since Trello is more focus on open collaboration I find myself needing to share classified files outside the tool which can complicate and confuse my peers, but honestly is more of the project itself than the tool.
Dylan
Operations Manager i Australien
Bekræftet LinkedIn-bruger
Trykkeri, 11-50 medarbejdere
Har anvendt softwaren til: Over 2 år
The only task management tool that has ever stuck with our team
Kommentarer: We have been happily using Trello for years. We use the free version (with occasional upgrades) and it's powerful enough to do exactly what we want. Without Trello I think we would get far less done!
Fordele:
We have a remotely dispersed team, and users at all levels of familiarity/interest in software tools. Trello is the only tool that has ever stuck and that our users have continued to use without constant prodding. It's simple enough to look like a structured wall of post-it notes for users who want that, but has enough granular controls that other users can label/colour-code/due-date to their heart's content. The UI is very well structured and both sets of users can happily co-exist. It also allows easy colloboration with our external development team.
Ulemper:
Sometimes I feel during busy periods that I lose track of individual updates (due to the sheer volume). I end up having to go board by board and card by card to ensure I don't miss something. Having a better system to watch certain cards/lists would help filter this.
Trindiad de Jesus
ceo i Mexico
Trykkeri, 2-10 medarbejdere
Har anvendt softwaren til: Gratis prøve
The worst to organize projects
Kommentarer: It was not a good experience at all, it cost us a lot to use it and above all to make it work efficiently, in the end we decided to leave it.
Fordele:
I can't say many positive things, the truth is that although the application fulfills enough of what was promised in everything it falls short.
Ulemper:
Problems of all kinds from alerts to the lack of update of tasks, we used the tool to organize our projects a bit but it was counterproductive, it was not updated on time so the tasks did not appear done, did not sound or send the alerts. We lost on several occasions the projects that we already had organized. It was a total fiasco but hopefully they will correct it over time.
Professionel udvikling og coaching, 11-50 medarbejdere
Har anvendt softwaren til: Over 2 år
Overvejede alternativer:
Great for Simple Start Up Purposes
Kommentarer: Trello was perfect for when I needed to organize my ideas and projects as a team of one and even adding 2-3 assistants, it was great for assinging tasks that have clear miletones and steps or even repeatable tasks that we could put on recurring deadlines. As the team and the business has grown, howeer we have started to see the limitations of the software for managing more comples workflows with multiple stakeholders and will probably be transitioning off of Trello as soon as we can upskill in a more dynamic platform/customize what we need in a system that has more functionality.
Fordele:
Trello is amazing or solopreneurs and small teams where you may be managing juts a couple of VAs. It llows you to easily create tasks with detailed descriptions, checklists and attachments or links to other resources. From there you can assign the tasks, set deadlines and keep all communications about the task or project all in one place. Our team has several boards that we use for managing the business and each one helps us stay on task and in communication in between regular team meetings. Trello is also great because it is ver intuitive as a kanban board and allows multiple views for different learning styles and organization methods ( list view, calendar etc) so everyone can find a way to make it work for them. We recently upgraded a tier so that we could add deadlines and assign subtasks to people and its a game changer for supporting workflows. Also, having the abiliy to add Zaps with other software tools is amazing for if you want to automatically assing some workflows for things like appointment bookings or payments.
Ulemper:
The one thing that is limiting about Trello is you cannot create dependencies for tasks. If one deadline gets bumped there is now way to automate the timeline udates to the rest of the project - this has to be done manually (ugh). Also, the deadlines in the checklists do not show up in the personal board view, so if you have team members who are looking for a daily dashboard of their assignments, they won't see the detailed tasks assigned to them, only the headline projects/cards. It's because of this limitation that we are starting to look at other more robust project management tools like Notion or Asana that allow you to create those dependencies automatically and notify task owners of those changes.
urban
Marketing Manager i Kenya
Bekræftet LinkedIn-bruger
Uddannelsesstyring, 201-500 medarbejdere
Har anvendt softwaren til: Over 2 år
Trello tracker review
Kommentarer: With just an email notification am able to get all the key team members on board about a campaign, their views, comments and also assign tasks easily.
Fordele:
I like the fact that i am able to clearly label and track multiple projects helps ease communication with project members and delegate tasks. It has a file storage option which is easy to use. As a team leader, am able to give access to different team member as per the project requirements. communicate with project members and delegate tasks.
Ulemper:
Trello is unable to lock data for specific tasks