Hvad er Axero?
Intranet software that unifies teams and accelerates growth. Communicate with your team, share and manage company knowledge, accelerate collaboration, and create a culture of transparency and trust. Streamline projects with one easy-to-access hub designed to unite and engage your employees. Axero is trusted by some of the world's most innovative and employee-centric companies. We make implementation easy!
Hvem bruger Axero?
Great for businesses of all sizes. Customers include: Toyota, Charter Communications, Johns Hopkins University, Benjamin Moore, Edwards Lifesciences, CHG Healthcare, and many more.
Hvor kan Axero anvendes?
Cloud-baseret
Lokalt
---
Om leverandøren
Axero Solutions
Grundlagt i 2007
Support vedrørende Axero
Telefonsupport
24-7 (live repræsentant)
Chat
Om leverandøren
Axero Solutions
Grundlagt i 2007
Support vedrørende Axero
Telefonsupport
24-7 (live repræsentant)
Chat
Videoer og billeder af Axero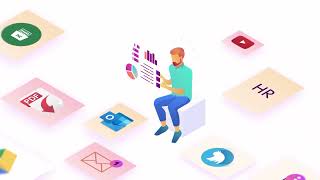 Sammenlign Axero med lignende produkter
Egenskaber ved Axero
Adgangskontrolelementer/tilladelser
Aktivitets-/nyhedsopdatering
Aktivitetssporing
Arkivering og opbevaring
Beskeder/meddelelser
Brainstorming
Brugerstyring
Chat i realtid
Chat/beskeder
Dashboard for aktivitet
Diskussioner/fora
Dokumentopbevaring
Dokumentoptagelse
Dokumentstyring
E-mailstyring
Enkelt tilmelding
Feedbackstyring
Fildeling
Fjernadgang/kontrol
Fjernsupport
Flersproget
Formularstyring
Gruppestyring
Import/eksport af data
Indholdsbibliotek
Indholdsstyring
Kalenderstyring
Katalogisering/kategorisering
Klassifikation af dokumenter
Klientportal
Kommentarer/notater
Kommunikationsstyring
Konferencer
Kontaktstyring
Live chat
Lydopkald
Medarbejderdatabase
Medarbejderfotos
Medarbejderkartotek
Mobil adgang
Multikanal-kommunikation
Mødeledelse
Notifikationer i realtid
Opgavestyring
Politikstyring
Privat netværk
Rapportering og statistik
Rapportering/analyse
Redigering af tekst
Redigering i realtid
Rollebaserede tilladelser
SSL-sikkerhed
Samarbejdsværktøjer
Samlet vejviser
Selvbetjeningsportal
Sikker datalagring
Skærmdeling
Softphone
Sporing af overholdelse
Styring af vidensbase
Søgning i fuld tekst
Søgning/filter
Tilpasselige skabeloner
Tilpasset branding
Tovejslyd og -video
Transskriptioner/chathistorik
Tredjepartsintegrationer
Undersøgelser og feedback
Versionskontrol
Vidensstyring
Videochat
Videokonference
Denise
Director of Marketing i Mexico
Bekræftet LinkedIn-bruger
Hospitals- og sundhedsvæsenet, 51-200 medarbejdere
Har anvendt softwaren til: 6-12 måneder
The perfect intranet solution for us.
Kommentarer: Very good. [SENSITIVE CONTENT], our salesperson, was very helpful and [SENSITIVE CONTENT] was an effective leader of onboarding.
Fordele:
It was surprisingly easy and fast to implement. I did most of it by myself over the period of about 6 weeks. The implementation team provides onboarding which is good when there will be multiple administrators.
Ulemper:
I would like the survey tool to be a little more robust. Also, there is a way to do it, but we struggled a bit with separating calendars into "anniversaries" and "birthdays."
Svar fra Axero Solutions
sidste måned
Hi Denise, Thank you for the review! The Axero team is thrilled that our platform is the perfect solution for your organization. I'll be sure to share your note with our client success team - we're always happy to hear that a customer had a smooth and quick implementation experience. Please feel free to submit your suggestions about surveys and calendars in the Suggestion and Feedback forum: https://my.axerosolutions.com/spaces/77/axero-online-support/forums/6118/suggestions-and-feedback Our development team is focused on delivering continued value to all users and your feedback guides the Axero roadmap. Thank you again! Alex, Axero Marketing Manager
Christina
Communication Manager i USA
Byggeri, 201-500 medarbejdere
Har anvendt softwaren til: 1-5 måneder
Overvejede alternativer:
First Time User - Communifire
Kommentarer: I have had a great experience with [SENSITIVE CONTENT HIDDEN] who has been our Rep. His training has helped me so much so that I can train our own ambassadors to use and update spaces. [SENSITIVE CONTENT HIDDEN] is easy to get a hold of, receptive and a great teacher. I trust that he will always understand my request and assists me immediately.
Fordele:
This software is perfect to communicate information to our entire company. I especially love the custom homepage which allows us to disseminate important information to our team real-time.
Ulemper:
It would be helpful if there was a feature which will allow me to post on the main page carousel from other spaces only. I have to duplicate "HOT" announcements on the main page and for example HR.
Svar fra Axero Solutions
sidste år
Thank you so much for your review, Christina! Have you tried our "featured" tool? This allows you to post content on a space and have it automatically appear on the main homepage. Please reach out to our support team if you have questions!
Christine
Business Analyst\Project Manager i USA
Forsikring, 501-1.000 medarbejdere
Har anvendt softwaren til: 6-12 måneder
I think the platform is very basic and not the robust solution it is presented as.
Kommentarer: It gave our employees a new intranet to complain about. They didn't like the old one because it was dated, and they don't like the new one because (1) it's new, and (2) it doesn't have some of the basic functionality of the old one (developed in-house).
Fordele:
Easy to set up and navigate.
Ulemper:
There are too many inconsistencies and quirks. It seems like it wasn't fully built out. Functionality was put in, but there's no depth to it. For example, the site member csv does not accurately report space membership. There are more examples, too numerous to mention here. We have reported these. Apparently, most are expected to be corrected in some phantom future release.
Bekræftet anmelder
Business Systems Process & Automation Manager i USA
Bekræftet LinkedIn-bruger
Finansielle tjenesteydelser, 1.001-5.000 medarbejdere
Har anvendt softwaren til: 1-5 måneder
Overvejede alternativer:
User-Friendly, Fast Deployment, and Superb Support
Kommentarer: Overall we've been extremely satisfied with the results of our implementation. The Support team is highly responsive and our associates were very pleased with our new site.
Fordele:
- Page creation and the drag/drop method for widgets made it easy to learn. - System administration is fairly simple and automated user provisioning was a big win. - Customization was key for us and we were able to brand the site in alignment with our standards. - The support team we received during implementation was superb.
Ulemper:
The software has room for growth in the areas of security logging and profile automation. We've been very pleased, however, with Axero's willingness to speak with us about the identified improvements and discuss whether it could be on the roadmap in the future.
Svar fra Axero Solutions
for 4 uger siden
Thank you for sharing your review! We pride ourselves in having a customizable and flexible platform - and on behalf of the Axero team, we are so happy that branding and functionality has been easy to use. Please continue to reach out to support if you have any suggestions for future enhancements. As you know, your insight guides our roadmap. Thank you again! Alex, Axero Marketing Manager
Hannah
Business Technology Manager i USA
Ejendomshandel, 201-500 medarbejdere
Har anvendt softwaren til: 6-12 måneder
Great Product!
Kommentarer: Overall, we are very happy with the product and have had great adoption and feedback from our users. Only a few limitations on customization and integrations, but we have still been able to accomplish most of what we were looking for - increased adoption & analytics, optimized search, organized layout and easy navigation, and trust security via Okta.
Fordele:
Positive feedback from users, organized and easy to navigate, responsive customer support, many different features to incorporate, and sleek designs.
Ulemper:
Setup can be a bit technical, some limitations on customization
Svar fra Axero Solutions
for 9 måneder siden
Hi Hannah, Thank you for the feedback! We're always happy to hear that your teams are loving Axero and adoption, navigation, search, and design is accomplishing your goals. Please feel free to leave suggestions about customization in our Suggestions and Feedback forum. Our team checks this page to plan our product roadmap. The Axero team wishes you a happy New Year! Sincerely, Alex, Axero Marketing Manager