Hvad er Freshservice?
Freshservice is an intelligent, right-sized ITSM solution that delivers exceptional employee experiences with an intuitive, scalable, no-code solution. With its state-of-the-art AI and ML capabilities, Freshservice helps organizations ease an IT agents workload and improve their productivity by automating mundane tasks. In addition to its AI capabilities, Freshservice is flexible and scalable enough to be used by both: companies relying on legacy systems and modern enterprises.
Hvem bruger Freshservice?
Freshservice's customers include MSP's, financial organizations, educational institutions and several government organizations.
Hvor kan Freshservice anvendes?
Cloud-baseret
Lokalt
---
Om leverandøren
Freshworks
Beliggende i San Mateo, USA
Grundlagt i 2011
Support vedrørende Freshservice
Telefonsupport
24-7 (live repræsentant)
Chat
Om leverandøren
Freshworks
Beliggende i San Mateo, USA
Grundlagt i 2011
Support vedrørende Freshservice
Telefonsupport
24-7 (live repræsentant)
Chat
Videoer og billeder af Freshservice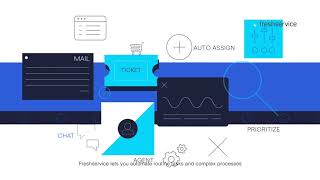 Sammenlign Freshservice med lignende produkter
Egenskaber ved Freshservice
Adgangskontrolelementer/tilladelser
Administration af licens
Administration af serviceniveauaftale
Aktivitetssporing
Aktivsporing
Asset Lifecycle Management
Automatisk enhedsregistrering
Beskeder/eskalering
Beskeder/meddelelser
CAPA (korrigerende og forebyggende handlinger)
CMDB
Dashboard
Dashboard for aktivitet
Dokumentstyring
E-mailstyring
Elektronisk signatur
Feedbackstyring
Fjernovervågning og -styring
Flersproget
For IT Project Management
Fuldførelsessporing
Håndtering af billet
Håndtering af problemer
Hændelsesstyring
Indberetning af hændelser
Indholdsstyring
Katalogisering/kategorisering
Konfiguration af arbejdsgange
Konfigurationsstyring
Kontrakt-/licensstyring
Kontraktudarbejdelse
Kortlægning af relationer
Lagerstyring
Leverandørstyring
Live chat
Mobil adgang
Multikanal-kommunikation
Omkostningssporing
Opgavestyring
Overvågning i realtid
Placeringssporing
Planlægning af vedligeholdelse
Prioritering
Problemhåndtering
Problemsporing
Præstationsmåling
Rapportering og statistik
Rapportering/analyse
Ressourcestyring
Revisionsspor
Revisionsstyring
Routing
Samarbejdsværktøjer
Selvbetjeningsportal
Servicekatalog
Sikkerhedskopiering og gendannelse
Sporing af kundeklager
Sporing af overholdelse
Statussporing
Stregkodning/RFID
Styring af IT-aktiver
Styring af arbejdsgange
Styring af efterforskninger
Styring af help desk
Styring af katastrofegenopbygning
Styring af kontraktlivscyklus
Styring af overholdelse
Styring af ændringer
Søgning/filter
Tildelingsstyring
Tilpasselige rapporter
Tilpasselige skabeloner
Tilpasset branding
Tredjepartsintegrationer
Træk og slip
Udgivelsesstyring
Udstedelsesrevision
Vedligeholdelsesledelse
Vidensstyring
Widgets
Alternativer til Freshservice
Anmeldelser af Freshservice
Erick
Client Technologies Manager i USA
Bekræftet LinkedIn-bruger
Bilindustrien, 1.001-5.000 medarbejdere
Har anvendt softwaren til: Over 1 år
Probably the best tool for Help Desk Management
Kommentarer: This is probably the best I used for ticketing. The support is really good, the only bad thing is that you have to contact mostly via chat.
Fordele:
The features it provides are really good. The ticketing flow is easy to follow, we can handle our Service Catalog, integrate with Active Directory, manage Asset Inventory and now we started using the Project management tool.
Ulemper:
The configuration (Initial Setup) is kind of complex. Design the flows is friendly, but complex if you have many rules, but the good thing is that support guides all the way during this process.
Bekræftet anmelder
CIO i Spanien
Bekræftet LinkedIn-bruger
Informationsteknologi og -tjenester, 1.001-5.000 medarbejdere
Har anvendt softwaren til: Over 1 år
Overvejede alternativer:
Freshservice is the best ITSM, our users love it!
Kommentarer: After using several ITSM tools, Freshservie deployment was very easy and it fits 100% with our needs at an affordable price.
Fordele:
Ticket management is great by itself but if you uses it with workflow automation it's awesome. You can configure as many user portal as you want and it was a requirement. Inventory is also great module. Project management help us not only in the helpdesk team but also in other areas of the department.
Ulemper:
The knowledge base could be better. You can't create more than two category levels and sometimes is not enough.
Bekræftet anmelder
Head of Application Services (System Administrator & Controlling Function) i Schweiz
Bekræftet LinkedIn-bruger
Ledelsesrådgivning, 201-500 medarbejdere
Har anvendt softwaren til: 6-12 måneder
Kilde: GetApp
No bang for the buck, an overpriced form submission tool that disappoints in reporting and integration
Fordele:
Friendly user interface. Copy screenshots directly into the form (although there's a bug for the last 3 months that screenshots are displayed double in edit mode.) Plenty of fields to configure for more complex workflows.
Ulemper:
Default categories and labels with awkward naming (synonymous use of "Tickets" and "Incidents" for "Issues", "Change" for "Change Request", "Problem" for "Bugs") No possibility to convert issues to change requests. Agent needs to recreate the entire case in the back resulting in significant adminstrative overhead. Reporting is practically inexistent. REST API not covering many functions and object attributes. (You cannot substitute reporting externally.) HTML editor limited and bugged. (CSS code in support articles not supported, Bootstrap not supported, code gets changed or reformatted upon saving articles) No access to the file and image repository. Frankly, with every new cosmetic change and "functionality no can do" message from the Team, I am growing more and more wary of this application. At this point, I am thinking of it as an overpriced form tool with practically no reporting, a gimped Knowledge Management base, and an asset list functionality that quickly drains your wallet. I am spending significant time rewriting issues as change requests in order to subsequently manually attach them to the original issue ticket and explain to the user why I would want to close his ticket after all. Writing knowledge articles is best done in a separate HTML editor. The Text Editor lacks basic functionality, removes formatting and images in unpredictable ways with undoing, and stores images and files in a central repository you have no access to. You might as well do that with a forms tool readily available on the internet.
Sarah
System Administrator i USA
Bekræftet LinkedIn-bruger
Informationsteknologi og -tjenester, 10.000+ medarbejdere
Har anvendt softwaren til: Over 2 år
You can do a lot of great things with Freshservice
Kommentarer: Complete platform for IT service management and reporting on client needs. It gives me the ability to develop material that can be provided as assistance to customers, as well as report back internally to the team and to top board management.
Fordele:
I appreciate that it is not only affordable, but also demonstrates a lot of value due to the fact that it comes with a lot of features considering how much it costs. FreshService is capable of competing with ServiceNow in terms of IT service management, and I am accustomed to utilizing ServiceNow.
Ulemper:
The constraints placed on portal design, in addition to the requirement of having HTML coding skills. I have not been able to determine whether or not it is possible for us to have parent portal sites that include kid pages, and the process of developing these pages will require experience in coding.
Tom
IT Support & Operations Manager i USA
Uddannelsesstyring, 1.001-5.000 medarbejdere
Har anvendt softwaren til: Over 2 år
Overvejede alternativer:
Freshservice Review
Kommentarer: I've really enjoyed having Frehservice in our organization. It has made my job as a manager much easier in that I can easily review team performance, post announcements for the organization, and identify trends in issues or requests.
Fordele:
Freshservice has been a game-changer for our organization. The service catalog and user-friendly interface has allowed our employees to improve their productivity over the past 2+ years we have had the system implemented. The customizable forms and workflow has allowed our IT department to streamline processes and improve efficiency.
Ulemper:
I wish the reporting capabilities were more customizable. There have been a few situations where I reached out to Frehservice for support on reports I needed but found the reports were not possible. The freshservice support team told me my reporting needs would be added to the list of potential "future enhancements'.