Hvad er Total Network Inventory?
Total Network Inventory 5 provides powerful tools for software inventory and license management. Introducing the Software Asset Management module.
All software from your Windows and Mac OS devices is gathered in a single place with comprehensive search and filtering capabilities. Browse, organize, and discover your software and installations, star important items, assign tags, add comments, and much more.
Hvem bruger Total Network Inventory?
Network administrators, IT-directors, IT-managers.
Hvor kan Total Network Inventory anvendes?
Cloud-baseret
Lokalt
---
Om leverandøren
Softinventive Lab
Grundlagt i 2006
Support vedrørende Total Network Inventory
Telefonsupport
24-7 (live repræsentant)
Chat
Pris på Total Network Inventory
Udgangspris:
90,00 US$/engangs
Ja, kommer med en gratis prøve
Ingen gratis version
Total Network Inventory har ikke en gratis version men tilbyder en gratis prøve. Total Network Inventoryden betalte version starter fra 90,00 US$/engangs.
Prisordninger
Få en gratis prøveversion
Om leverandøren
Softinventive Lab
Grundlagt i 2006
Support vedrørende Total Network Inventory
Telefonsupport
24-7 (live repræsentant)
Chat
Videoer og billeder af Total Network Inventory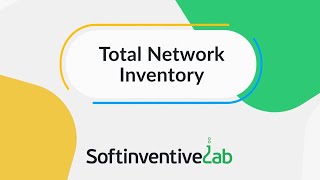 Egenskaber ved Total Network Inventory
Aktivsporing
Automatisk enhedsregistrering
Beskeder/meddelelser
Dashboard for aktivitet
Eksport af kort
Farvekoder/ikoner
Hierarkisk sammenligning
Konfigurationsstyring
Kontrakt-/licensstyring
Lagerstyring
Leverandørstyring
Licensoversigt
Lokationsbaseret kortlægning
Problemhåndtering
Prøvelicens
Rapportering/analyse
Realtidsrapportering
Revisionsstyring
Sporing af licens
Styring af IT-aktiver
Styring af overholdelse
Styring af ændringer
Træk og slip
Alternativer til Total Network Inventory
Anmeldelser af Total Network Inventory
Computernetværk, 2-10 medarbejdere
Har anvendt softwaren til: Over 2 år
Comprehensive Network Mapping and Reporting
Kommentarer: Total Network is a must have for a reasonably priced, non-intrusive scan of all the computers on your network, and get detailed info on what OS and software they are running. It is a lot cheaper and more flexible than a software audit!
Fordele:
The product goes out over your network by subnet or Domain and interrogates all node it finds and reports OS, software installs, and other vital info. You can hunt down computers on your network that use a certain version of software that is in need of upgrade, or just keep a snapshot of what software is running on your network.
Ulemper:
It is a little time consuming to get a complete scan completed. I wish there was a feature to allow you to just go out and look for changes since your last full scan
Derek
Sys. administrator i Ukraine
Forlagsbranchen, 11-50 medarbejdere
Har anvendt softwaren til: Over 1 år
Overall, pretty good product
Kommentarer: For the internal network I found the software Total network monitor to be enough for our company. Fits perfectly in our Windows-based network. I tried to install on Debian and it worked great. So multiplatform is a real deal. It also scans servers through VPN and fulfill needs to look for a software license management. My main concern is lack of temperature control. In our office we don`t run any 3D programs or such but i see it`s being a case for other companies.
Also i tried their remote installation product http://www.softinventive.com/total-software-deployment/, total software deployment on a trial period and now i`m talking with CEO to buy this package. Microsoft deployment didn`t work out for me.
Fordele:
price, ui, customisable
Ulemper:
temp control
Rafael
Soporte de Redes y Sistemas i Venezuela
Bekræftet LinkedIn-bruger
Har anvendt softwaren til: 6-12 måneder
Complete solution to audit keep a detailed inventory of your business networks
Kommentarer: This Software eases the task of audit and analyze medium to big network, allowing us to check the status of the devices, make detailed reports about specs or changes on the computer software, personally i use it very frequently to check out the specific IP's and windows accounts for certain computers or check if the users are using unauthorized software or accounts on specific areas or devices. on overall makes the network administrator's life much more easy.
Fordele:
- Full Compatibility to scan and gather info about Windows, Linux, FreeBSD and MacOs devices on local network rather than windows devices. - Scan Via Nodes, Defined IP Ranges or Active Directory - Generate detailed and flexible networks reports , that can be exported in multiple formats for further use. - Real-time monitoring of all devices connected to the scanned network. - Lots of tools and functions for network auditing. -Free Trial to test the full version of the software
Ulemper:
- Despite of recognize multiple operating system, this software is mainly compatible with windows based networks. - Needs above average knowledge to fully take advantage of all the features of the software.
Haris
Student i Storbritannien
Computer- og netværkssikkerhed, 501-1.000 medarbejdere
Har anvendt softwaren til: 1-5 måneder
Total Network Inventory
Kommentarer: overall good
Fordele:
i like all the features specially visualization.
Ulemper:
All the features meet the requirement. There is no need for more features