Hvad er Meetmaps?
Meetmaps is the event management software to organize one event or all your events, for face-to-face, hybrid or virtual format. As event manager, Meetmaps' all-in-one platform brings you a digital, private and branded space in which to offer the best experience to your attendees, boosting the engagement.
We cover every stage of the event: online registration and forms, attendees database management, creation of your event app or virtual venue, 1to1 meetings and acces control for in-person events
Hvem bruger Meetmaps?
- Professional event planners, managers and coordinators - Professional event agencies - OPC's - Event marketing manager - Design and Event Tech Consultant - Conference and conventions manager
Hvor kan Meetmaps anvendes?
Sky, SaaS, Web-baseret, Mac (Desktop), Windows (Desktop), Android (Mobil), iPhone (Mobil), iPad (Mobil)
Om leverandøren
Meetmaps
Grundlagt i 2015
Telefonsupport
24-7 (live repræsentant)
Chat
Om leverandøren
Meetmaps
Grundlagt i 2015
Telefonsupport
24-7 (live repræsentant)
Chat
Videoer og billeder af Meetmaps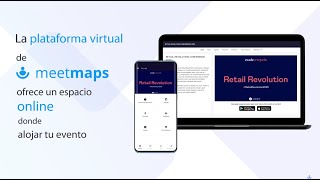 Sammenlign Meetmaps med lignende produkter
Egenskaber ved Meetmaps
API
Adgangskontrolelementer/tilladelser
Administration af registrering
Afstemninger/afstemning
Arrangementsbilletter
Arrangementskalender
Arrangementsplanlægning
Arrangementsstyring
Badge-styring
Beskeder/meddelelser
Betalingsbehandling
Billetering
Chat i realtid
Dashboard for aktivitet
Deltagerprofiler
Deltagersporing
Deltagerstyring
Diskussioner/fora
E-mailmarketing
En-til-én beskeder
Engagementssporing
Feedbackstyring
Flere kamerafeeds
Flere værter
Generering af kundeemner
Grupperegistrering
Gruppestyring
Indholdsstyring
Integration af sociale medier
Kalenderstyring
Konkurrencestyring
Kontaktstyring
Leaderboards
Live chat
Live streaming
Live streamingproduktion
Markedsføringsautomatisering
Mobil adgang
Mobil indtjekning
Moderering
Målgruppeanalyser
Målgruppeengagement
Målsætning/sporing
Netværksarbejde
Online betalinger
Online tilmelding
Opdateringer i realtid
Optagelse
Optagelse af session
Privat chat
Præstationsmåling
Rapportering og statistik
Rapportering/analyse
Registrering af besøgende
Registrering af kundeemne
Skærmdeling
Social forfremmelse
Streaming af præsentation
Styring af dagsorden
Styring af spørgsmål og svar
Styring af udstillinger/leverandører
Talerprofiler
Tilmelding på stedet
Tilpasselige formularer
Tilpasselige rapporter
Tilpasselige skabeloner
Tilpasset branding
Undersøgelses-/afstemningsledelse
Videokonference
Værtsstyringer
Alternativer til Meetmaps
Roger B.
Systemic Coach, Sparkling Strategies Founder i Spanien
Professionel udvikling og coaching, 2-10 medarbejdere
Har anvendt softwaren til: 1-5 måneder
A must for future events
Kommentarer: We went for Meetmaps after having the opportunity to test it during Primavera Pro 2016. We thought that it would be not only a stylish tool to create engagement for our event (EODF 2016) but also a cohesive statement as we were trying to put together an event whose aim was to feel, think and play "21st century Organisation Design for the 21st century Organisation"... being one of the main topics the implications of Big Data and digitalization, for example. That being said, you can infer we were all excited about getting Meetmaps. And, after successfully surviving the event, we can say that Meetmaps meet our expectations and beyond. In practical terms, Meetmaps comes with predefined options and it's really easy to customize and get everything together so the tech team can launch the app as agreed (there are different options available and we went for the Event Mobile App). In this sense, the tech and support team was incredibly communicative and problem-solving. They did their best to stay within the deadline even though our materials arrived later than expected. But what really surprised us is the adaptability and effectiveness of Meetmaps when they created, ex profeso, a new section in their app in a sort of record time (specifically, we were wondering if it was possible to add a module in the app that consisted entirely of graphics). So, on top of that, that's why, after our experience with Meetmaps, we would conclude: handy and easy to use, highly-customizable, beautifully packed, top-class service/support team and further possibilities. We would suggest, for example, that Board module (where you can propose topics of discussions as in a forum) could integrate graphic content in the future, in the case, for example, that some attendee wants to attach a photo from his or her smartphone. But again, that's only an example of what we would like to expect from Meetmaps in the future. All in all, and most probably, Meetmaps will a must for our next event.
Aleix I.
Press and Communication Manager i Spanien
Fritid, rejser og turisme, 51-200 medarbejdere
Har anvendt softwaren til: 1-5 måneder
A reinvention of event interaction
Kommentarer: We are really surprised by the reactions of our attendees. We have seen how Meetmaps supercharged the event experience by providing participants with the networking power they were looking for at our event. We are very happy to have partnered with the Meetmaps team and see how there is even more potential in the future.
Fordele:
The very attractive solution to increase interaction allowed attendees to network and connect as early as their moment of registration or accreditation.
Valentina C.
DirCom i Spanien
Eventtjenester, 2-10 medarbejdere
Har anvendt softwaren til: Over 2 år
Un evento a portada de mano
Kommentarer: Me gusta mucho trabajar con ellos. Son un partner de confianza
Fordele:
Su actualización constante. La disponibilidad por parte del personale
Ulemper:
Falta de interacción entre departamentos en momentos puntuales
Svar fra Meetmaps
for 3 måneder siden
Gracias por tu comentario Valentina! Un placer trabajar contigo y tu equipo. Recogemos tu opinión para seguir mejorando y esperamos saber pronto de ti!
Larissa S.
canto nuvem i Brasilien
Medieproduktion, 2-10 medarbejdere
Har anvendt softwaren til: 6-12 måneder
check-in application
Fordele:
I can more easily organize my work events in a more modern and interesting way.
Ulemper:
at times the application crashes, having to restart it.
Inés P.
Innovation & Design Strategy i Spanien
Design, 51-200 medarbejdere
Har anvendt softwaren til: 1-5 måneder
A complete mobile experience
Kommentarer: I emphasize the ease we had to create, edit and control all the experience we wanted to provide to our attendees. Also I was able to make updates to the agenda and moderate all the conversations from the dashboard while the app was on the Apple Store and Google Play. It was like magic.
Fordele:
Since I created my first interactive App, I have recommended them to other organizers because of the ease in creating it and customization options. I was able to select all the modules i would like to add to my App to personalize all the event experience. The event was a complete success!