Hvad er Knak?
Knak is the first campaign creation platform built for enterprise marketing teams. It lets anyone in your company create beautiful, on-brand emails and landing pages in minutes, with no coding required.
Knak integrates seamlessly with top marketing automation platforms like Marketo Engage, Adobe Campaign, SFMC, Eloqua, and Pardot, to name a few. It's trusted by some of the world's largest brands.
Hvem bruger Knak?
Enterprise marketing teams that recognize the value of their brand, have large marketing teams and are early adopters of technology. They've already invested in a marketing automation platform.
Hvor kan Knak anvendes?
Cloud-baseret
Lokalt
---
Om leverandøren
Knak
Beliggende i Nepean, Canada
Grundlagt i 2015
Support vedrørende Knak
Telefonsupport
24-7 (live repræsentant)
Chat
Tilgængelige lande
Australien, Canada, Irland, Storbritannien, USA
Om leverandøren
Knak
Beliggende i Nepean, Canada
Grundlagt i 2015
Support vedrørende Knak
Telefonsupport
24-7 (live repræsentant)
Chat
Tilgængelige lande
Australien, Canada, Irland, Storbritannien, USA
Videoer og billeder af Knak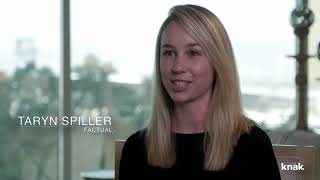 Sammenlign Knak med lignende produkter
Egenskaber ved Knak
Automatisering af proces/arbejdsgang
Destinationssider/webformularer
Flere udgangsformater
Mobil optimerede e-mails
Samarbejdsværktøjer
Skabeloner
Skabelonstyring
Tilpasselige skabeloner
WYSIWYG-editor
Tom
Global Marketing Operations Manager i Storbritannien
Bekræftet LinkedIn-bruger
Informationsteknologi og -tjenester, 51-200 medarbejdere
Har anvendt softwaren til: Over 1 år
Easy to use, great integration with Marketo
Kommentarer: We've had a great experience with Knak, it has added a a lot of value and flexibility to our email creation process
Fordele:
The ease of use to create emails means anyone on the team can create the emails if required and the sync with Marketo is very effective.
Ulemper:
Very little not to like about Knak, I have nothing to add here
Ajay
Sr. Manager, Digital Marketing Strategy i USA
Bekræftet LinkedIn-bruger
Medicinsk udstyr, 10.000+ medarbejdere
Har anvendt softwaren til: 6-12 måneder
A real no-brainer
Kommentarer: We were using Marketo's email builder with a custom template to build out our emails. While some of us could build out emails in Marketo, not all of our employees globally have the HTML/CSS expertise to effectively build using Marketo's native email buidler. Our Marketo email modules just were not flexible enough – especially when it came to resizing columns or easily supporting mobile-first, responsive emails. In addition, we always needed to go into the HTML code to troubleshoot the formatting or adjusting the CSS because content just wouldn't render the same way in different email clients as it did within Marketo. In addition, with agencies building our emails, we found that they typically did not know how to code emails for Marketo. More often than not, the agencies would provide HTML code that did not render properly and one of the email builders or our IT team would have to troubleshoot the agency code or rebuild the email in Marketo using our template. This workflow was costly and creating bottlenecks that were delaying the distribution of our emails. On-boarding with Knak was excellent. Our customer success manager has been working with us from day 1. We did have an initial bump in the road with the implementation of Knak based on our brand standards; however, their team was very helpful with setting up all the other modules and giving us early access to the new editor which resolved all issues. We have rolled Knak out globally over the past 3 months.
Fordele:
Knak is an intuitive, easy-to-use HTML email builder without the need to know HTML or CSS. The email building platform has been developed specifically to solve the challenge of building branded emails that can be deployed through a variety of email distribution platforms by those who want to focus on the content of the email and not the coding. We love how quickly we can build our emails using Knak and...that the emails display properly on desktop and mobile clients.
Ulemper:
I really don't have a con for Knak but...if pressed, the only one I can think of is one navigation-related issue that could be more refined. Such as when you go back to the list of emails in the "Email Center" the platform does not remember your filters. Not a big deal as they have a lightning fast search and you can also click a button to just see the emails you built. Plus, their dev team already has this in the works.
Robert
Marketing Specialist i USA
Internet, 201-500 medarbejdere
Har anvendt softwaren til: 1-5 måneder
Knak Review From Dice
Kommentarer: We are solving the better use of time when an email template for a client needs to be used more than once. Easy to clone.
Fordele:
I think the product is very user friendly when it comes to either building an email from the blank canvas, or a template already made, I usually have no issue.
Ulemper:
I think the organization of the email center and especially the image library could be a little better. Kind of all over the place.
Andy
Digital Manager i Storbritannien
Bilindustrien, 501-1.000 medarbejdere
Har anvendt softwaren til: Over 2 år
Enterprise Brand Management and Email Creator Platform
Fordele:
Easy to implement component approach to create brand consistency across global markets Easy to deploy to Marketo Efficent approvals process Administration flexibility for different user roles Speed of email creation Ease of implementation with markets
Ulemper:
Good to see folders deployed recently Mobile specific vs destop email creation could be slicker but this is a minor point
Andrew
Marketing Manager i USA
Informationsteknologi og -tjenester, 201-500 medarbejdere
Har anvendt softwaren til: 6-12 måneder
Great product with excellent support!
Kommentarer: They have a very strong team that knows a lot about building quality emails that render on every platform and device; this translates well into the Knak builder. It has significantly reduced the time required to create emails from days to minutes, allowing us to focus our time elsewhere. Pair a great product with a great support team and you have a must-have solution for your email marketing stack!
Fordele:
Knak makes building emails extremely straight-forward and easy, all without the need to touch any code! It empowers our marketing team to create emails in minutes instead of days, without relying on developers or the design team. Their support is also top-notch! They are quick to resolve issues that arise and actually listen to and implement our product feedback to release new features that make our email creation even easier.
Ulemper:
While there are certain things that can't be done with Knak, they are always improving the product and adding new features to fill holes in there email creation abilities. We have run into a few really complex designs that required custom-coded solutions on top of Knak templates, but the solution covers 99% of our email creation needs.