Hvad er Nootiz?
nootiz is a visual feedback tool for clear communication without detours during the development of a web project. nootiz makes feedback simple, transparent and time-saving. Everyone involved in the project - designers, copywriters, developers or the client himself - can leave their comments, notes, questions or feedback directly on the live website with just one click and without much effort. With the easy integration into your existing tools you keep the overview.
Hvem bruger Nootiz?
With nootiz, you as a web agency, designer or developer can quickly and easily collect feedback on your web projects. Every user can leave his feedback directly on the website at the desired element.
Hvor kan Nootiz anvendes?
Sky, SaaS, Web-baseret
Tilgængelige lande
Italien, Schweiz, Tyskland, Østrig
Tilgængelige lande
Italien, Schweiz, Tyskland, Østrig
Videoer og billeder af Nootiz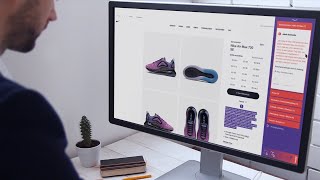 Sammenlign Nootiz med lignende produkter
Egenskaber ved Nootiz
Administration af notater
Aktivitets-/nyhedsopdatering
Beskeder/meddelelser
Diskussioner/fora
Fildeling
Mobil adgang
Opgavestyring
Redigering/opdatering af opgave
Samarbejdsværktøjer
Sikker datalagring
Ivan
Senior Software Engineer i Italien
Bekræftet LinkedIn-bruger
Informationsteknologi og -tjenester, 201-500 medarbejdere
Har anvendt softwaren til: Over 2 år
Super Tool um Feedback einzusammeln
Kommentarer: Das Tool funktioniert schnell und zuverlässig. Die Anbindung an Jira zur Synchronisation der Notizen funktioniert sehr gut.
Fordele:
Die Einfachheit und das ansprechende Design tragen dazu bei, dass auch nicht technisch versierten Nutzer schnell Feedback zu einer Webseite/-applikation geben können.
Ulemper:
Einige kleinere spezielle Features, wie z.B. das Priorisieren von Notizen würde ich mir noch wünschen.
Kim
Werbeagentur i Tyskland
Design, 2-10 medarbejdere
Har anvendt softwaren til: 6-12 måneder
Like it!
Kommentarer: Auch unsere Kunden kommen damit sehr gut zurecht und davon sind einige nur wenig affin in der Nutzung von Software..
Fordele:
Leichter Austausch von Änderungswünschen mit dem Kunden
Ulemper:
Manchmal geht der Punkt verloren, der ausgewählt wurde und mit der mobilen Version der Website ist es auch schon mal problematisch zu arbeiten.. weil das nicht ganz klar zu unterscheiden ist..
David
Marketing Manager i Italien
Minedrift og metal, 501-1.000 medarbejdere
Har anvendt softwaren til: 1-5 måneder
Praktisches Tool zur Zusammenarbeit
Fordele:
Die Fuktionen erlauben einen unkomplizierten Austausch
Ulemper:
Teilweise ist es nicht ganz klar ersichtlich an welcher Stelle Notizen hinzugefügt wurden.
Robert
Marketing Manager i Italien
Maskineri, 501-1.000 medarbejdere
Har anvendt softwaren til: Over 1 år
Ideales Tool für Feedback bei Webprojekten
Kommentarer: Sehr hilfreiches Tool um konstruktiv und klar Feedback zu geben
Fordele:
- intuitive Bedienung des Tools - Möglichkeit direkt Anmerkungen an den gewünschten Elementen zu geben - effiziente Kommentarfunktion für mehrere User - deutliche Reduzierung des Kommunikationsaufwands
Ulemper:
- Auffindbarkeit der Kommentare wenn sie innerhalb aufklappbarer Elemente (Accordeons) gemacht werden
Susanne
Head of Marketing i Italien
Maskin- eller industriingeniørarbejde, 501-1.000 medarbejdere
Har anvendt softwaren til: Over 1 år
Intuitiv und leicht zu benutzen
Fordele:
Wir haben das Tool für den Relaunch unserer Websites verwendet und sehr zu schätzen gelernt. Korrekturen oder Änderungswünsche waren leicht zu markieren und es hat die Kommunikation mit unserer Webagentur stark vereinfacht.
Ulemper:
Habe keine besonderen negativen Anmerkungen.