Hvad er Roofr?
Roofr offers accurate roof measurement reports for $15 delivered same day or you can measure it yourself using the free DIY software. Every report includes 6-pages outlining total squares, pitch, edges (including hips, valleys, ridges, flashing, and more).
Roofr also allows users to send impressive branded proposals to leads so they can stand out from the competition and sell more jobs.
Start for free now and start winning more work!
Hvem bruger Roofr?
Roofing Contractors - $15 roof measurement reports delivered same day or use the free DIY software. All reports are accurate and include all details of the roof. No fees. Unlimited users.
Hvor kan Roofr anvendes?
Sky, SaaS, Web-baseret, Mac (Desktop), Windows (Desktop), Linux (Desktop), Chromebook (Desktop)
Om leverandøren
Roofr
Grundlagt i 2017
Telefonsupport
Chat
Tilgængelige lande
Canada, USA
Pris på Roofr
Udgangspris:
15,00 US$/engangs
Ja, kommer med en gratis prøve
Ja, kommer med en gratis version
Roofr har en gratis version og tilbyder en gratis prøve. Roofrden betalte version starter fra 15,00 US$/engangs.
Om leverandøren
Roofr
Grundlagt i 2017
Telefonsupport
Chat
Tilgængelige lande
Canada, USA
Videoer og billeder af Roofr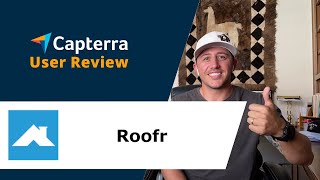 Sammenlign Roofr med lignende produkter
Egenskaber ved Roofr
CRM
Citater/estimater
Fotooptagelse