Hvad er Absorb LMS?
Absorb LMS sætter virksomheder over hele verden istand til at overstige læringsmål. Det intuitive design og de robuste funktioner, der er bygget til at levere fleksibel undervisning, skaber et engagerende læringsmiljø, der får medarbejdere, kunder og partnere til at vende tilbage efter mere. Absorb LMS betjener kunder i 120 industri vertikaler og tilbyder automatisering og dybdegående rapporteringsfunktioner for at spare tid og bevise investeringsafkast. LMS'et er skalerbart og understøtter integration og sikkerhed, samtidig med at intern support udbydes døgnet rundt.
Hvem bruger Absorb LMS?
Organisationer, der tilbyder undervisning af medarbejdere, ekstern undervisning eller begge dele, inklusiv e-handel. Vi arbejder for organisationer med nogle få hundrede elever og helt op til hundredtusindvis af elever.
Hvor kan Absorb LMS anvendes?
Cloud-baseret
Lokalt
---
Om leverandøren
Absorb
Beliggende i Calgary, Canada
Grundlagt i 2002
Support vedrørende Absorb LMS
Telefonsupport
24-7 (live repræsentant)
Chat
Pris på Absorb LMS
Udgangspris:
Ikke tilbudt af leverandør
Ja, kommer med en gratis prøve
Ingen gratis version
Absorb LMS har ikke en gratis version men tilbyder en gratis prøve.
Prisordninger
Få en gratis prøveversion
Om leverandøren
Absorb
Beliggende i Calgary, Canada
Grundlagt i 2002
Support vedrørende Absorb LMS
Telefonsupport
24-7 (live repræsentant)
Chat
Videoer og billeder af Absorb LMS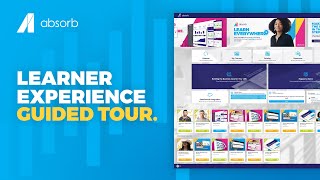 Egenskaber ved Absorb LMS
Administration af uddannelse
Aktivitetsovervågning
Asynkron læring
Beskeder/meddelelser
Blandet læring
Brugerstyring
Certificering og licensering
Certificeringsstyring
Dashboard for aktivitet
Dokumentstyring
Elektroniske blanketter
Elevportal
Fremskridtsrapporter
Gamification
Indbygget kursusudvikling
Indholdsbibliotek
Indholdsdeling
Indholdsstyring
Interaktivt indhold
Kompetencestyring
Kursusbibliotek
Kursusforfatter
Kursussporing
Kursusstyring
Kursusudgivelse
Lyd-/videooptagelse
Læringsbane/-veje
Læringsledelse
Medarbejderengagement
Medarbejderhåndbog
Medarbejderportal
Medarbejdertræning
Medieimport
Mikrolæring
Mobil adgang
Mobil indlæring
Onboarding af medarbejdere
Overholdelse af SCORM
Prøver/vurderinger
Påmindelser
Rapportering og statistik
Rapportering/analyse
Samarbejde med flere brugere
Selvbetjeningsportal
Selvbetjent indholdskuration
Selvstudium
Skabelonstyring
Social indlæring
Sporing af fremskridt
Sporing af overholdelse
Storyboarding
Styring af e-handel
Styring af orienteringsarbejdsgang
Styring af overholdelse
Styring af vurderinger
Synkron læring
Tildelingsstyring
Tilpasset branding
Tredjepartsintegration
Tredjepartsintegrationer
Træningsfirmaer
Træningsledelse
Virtuelt klasseværelse
Alternativer til Absorb LMS
Anmeldelser af Absorb LMS
Nicolas
Financial Analyst i USA
Bekræftet LinkedIn-bruger
Finansielle tjenesteydelser, 201-500 medarbejdere
Har anvendt softwaren til: Over 1 år
Anmelderkilde
Flexible and very complete LMS
Fordele:
It stands out for its simplicity of use and its pleasant user interface. It offers great flexibility in the design of learning experiences, adapting them to the characteristics of each training process. It has an electronic signature so that participants can demonstrate that they met the requirements of their training process. Integrates seamlessly with any eLearning content library.
Ulemper:
I consider that this is a platform with a lot of potential, the only thing that I think can be improved is to simplify some processes to make the configuration easier.
Yashovardhan
Researcher i Indien
Uddannelsesstyring, 1.001-5.000 medarbejdere
Har anvendt softwaren til: Over 1 år
Anmelderkilde
All-in-one learning platform for Everyone
Kommentarer: I have been using the Absorb LMS for a few years, and have been very pleased with their platform. It is user-friendly, offers a great range of features, is well-supported and highly customisable. The training program setup and course creation process has been easy to learn and manage. I especially appreciate the reporting features which are very user-friendly and provide meaningful data. I also think Absorb has done a great job of creating an online community of customers which is a great resource for ideas and best practices.
Fordele:
The features most impactful in Absorb LMS are customizability, scalability, analytics, and reporting. Users can easily customize the look and feel of the platform to best suit their organization's needs. Additionally, it can be scaled up or down depending on the size of the organization and their training needs. The analytics and reporting tools provided by Absorb LMS make it easy to track learner engagement and course effectiveness. Additionally, Absorb's API also allows organizations to easily integrate Absorb into existing business processes. Finally, Absorb LMS is incredibly easy to use and provides a straightforward user interface for authors and learners.
Ulemper:
One of the areas of least satisfaction with Absorb LMS is the amount of setup required to configure the system. This can be particularly challenging for non-technical users and requires a fair amount of time and energy to get the system settings just right. Additionally, the interface of the interface and navigation could be more intuitive.
Overvejede alternativer: Docebo
Grunde til at skifte til Absorb LMS: Absorb LMS stood out to us as a comprehensive, cost-effective, and intuitive platform that addressed all of our training needs. It provides a comprehensive range of features and customization options, making it easy to customize and configure the system to our specific needs. The customization flexibility also allows us to create automated rules and automate much of the training process. It offers scalability for growth, flexibility for changes, and has robust security measures in place to protect our data. Finally, the Absorb LMS is one of the most cost-effective options on the market. That combination of features makes it an easy choice for a reliable and successful implementation of our online training.
Pritam
Developer i Canada
Informationsteknologi og -tjenester, 10.000+ medarbejdere
Har anvendt softwaren til: 6-12 måneder
Anmelderkilde
Absorb LMS review
Kommentarer: Development team is making it more flexible by constantly improving and adding features.
Fordele:
It's integration with ADP is considered to be essential for our team. It has the flexibility of features and is robust and stable. The intelligence search feature making it possible to search the most accurate courses. Videos are so much informative.
Ulemper:
It takes more time to configure the setup. The course organization can be done more properly. The modules are needed to be create by our team only to import the data from LMS.
Stefan
Manager, Knowledge Management i Canada
Computersoftware, 201-500 medarbejdere
Har anvendt softwaren til: 1-5 måneder
Anmelderkilde
Easy to use LMS platform with the right amount of features for our needs
Kommentarer: We were looking for an LMS platform for internal training that could be expanded to customer training afterwards. The sales engagement with Absorb LMS has been a great experience, providing us with the tools and knowledge to properly evaluate the platform (including a trial portal which we could test with our own content). Onboarding was well structured, with a clear plan of tasks to accomplish both on our side and on the vendor side. Absorb provides a series of well-made self-training modules to go through, which complemented the training provided by the implementation project manager. Compared to other LMS, the platform itself is easy to use while providing a good breadth of features for our use. It's a mature product, with a solid backend. We did not experience any performance issues or security concerns. Look and feel customization is relatively basic. The interface is also quite rigid: for example, thumbnails or banners must have precise dimensions, otherwise images are stretched. Because of that it requires a lot of efforts, trials and errors, if you want to have a visual experience distinct from the Absorb default. The main shortcoming we experienced is that some common workflows could be streamlined. They can involve a lot of clicks, which is irritating when you're repeating the same workflow several times in a row. Keyboard shortcuts could be introduced to facilitate some operations, which would alleviate this.
Fordele:
Easy to use Solid onboarding training for admins Provides content hosting Supports SCORM and xAPI (Tin Can) Supports Instructor Led Classes Zoom integration BambooHR integration Salesforce integration Overall mature platform Great customer support
Ulemper:
Look and feel customization lacks flexibility Some workflows could be streamlined, especially for course management No actual course authoring functionality: users need to import learning objects created with external tools, such as 3rd party eLearning authoring tools. This is fine for our needs, but it would add flexibility if there was at least some content authoring functionalities.
Overvejede alternativer: Cornerstone LMS
Grunde til at skifte til Absorb LMS: The intersection of ease of use, features, customer service and costs of Absorb was superior to all other alternatives we considered. Some were superior in terms features but were too expensive for our needs. Some were less expensive but the customer service was a concern. Some were not as user-friendly. It all came down to that equation: ease of use + features + services + costs. Absorb LMS hit the sweet spot for us.
Alex
Content and Student Experience Manager i Australien
E-læring, 11-50 medarbejdere
Har anvendt softwaren til: 1-5 måneder
Anmelderkilde
Intuitive, Adaptable System
Kommentarer: We have not had the option to easily view student logins, update courses, create courses and manage our student experience to date, and Absorb has solved all of these problems immediately. The system has been very easy to set-up, easy to navigate within - from a student and admin experience - and the Absorb Create function is invaluable.
Fordele:
The simplicity of the system - back end and front end - have made the implementation and launch of our Absorb LMS very straightforward. My company has some unique use cases and my implementation manager, [sensitive content hidden], workshopped a number of issues with me and together we came up with effective solutions. The ease of uploading content has meant that I have had the opportunity to test various course set-ups very quickly.
Ulemper:
Our courses require individualised feedback for assessments and currently Absorb is not set-up to allow for this in a comprehensive manner.
Overvejede alternativer: Docebo
Grunde til at vælge Absorb LMS: Our previous LMS did not have any of the functionality we needed. It was set-up without planning or assessment of our requirements.
Grunde til at skifte til Absorb LMS: The features available in Absorb LMS were similar to these other products, but Absorb Create and the pricepoint were what set Absorb apart.